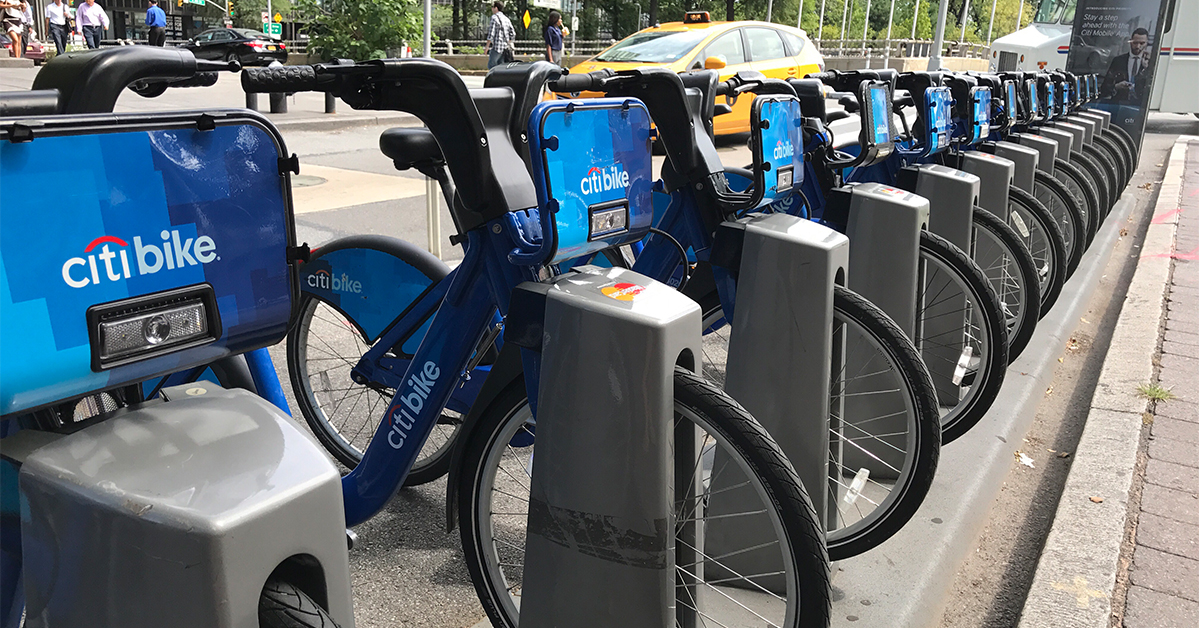 NYC is one of the most exciting cities in the world. But, if you're new to it, it can also feel challenging. The bright and bustling city can feel hard to navigate, whether that's because of crowds, different transportation options, or a grid system that exists in the middle of the city—but not beyond. If you are new to New York City, or you are thinking of moving here, it can help to learn how to get around the city first. That way, when you arrive, you'll be armed with the knowledge of how to get where you want and need to go right away.
Subway
The subway is the most popular transportation system in NYC. It consists mostly of trains that speed through tunnels underground, as well as some trains that go above ground at certain spots in the city. One reason that the subway is so popular is that it extends throughout all 5 boroughs, and it makes almost every destination reachable. To get on the subway, you can buy a single ride ticket for $3.00 then swipe it to get through the turnstile. But, if you're going to be living in New York, you might want to opt for one of the smarter financial options, like a 10 ride ticket or a weekly or monthly unlimited pass. The monthly unlimited ride pass for the subway today costs $127. The MTA just launched a new program called OMNY that allows you to pay with a tap of your smartphone at the turnstile. Subways run every few minutes so you rarely have to wait too long for a train.
The Bus
There is a bus system throughout the city that can also get you almost anywhere you want to go. The bus system is much like the bus system anywhere else, buy a ticket beforehand or pay when you get onboard. The bus may be a nice option for people who feel claustrophobic in trains or don't want to go down in a tunnel underground or if you have a little extra time and want to take in the sights. But buses end up sitting in NYC traffic, and they can be a bit slower than subway trains navigating through the concrete jungle. The cost of a bus ticket today is $2.75. The cost of an express $6.75. Buses run every 5 to 15 minutes.
The Ferry
NYC runs ferries on its two rivers: the East River and the Hudson River. The ferry can get you where you need to go across a body of water, whether that's to Long Island City, Downtown Manhattan, or just across the way to Brooklyn. The city recently revamped their ferries and now they're fancy with bars and refreshments onboard. You can buy a ticket for $2.75, and then enjoy a snack or a post work beverage to unwind. Look at the ferry maps here to see if a boat gets you close to where you want to go. The ferries only run once or twice an hour, depending on what time of day it is. So this is a less convenient option than the train and the bus if you are in a time crunch. You can buy a monthly ferry pass for $121.
Taxis and Ridesharing
The yellow taxi is an icon of New York City…on most days, just put your hand up and hail one. You can also use your smartphone to order a rideshare car, like you can in most big cities. Companies like Uber and Lyft both operate in NYC and, similarly, the yellow cabs now have their own rideshare apps, like Curb and Waave. You can choose to order a taxi, a black car, or a shared car with other people (if you're going somewhere that makes sense along their route), which can end up cutting costs for everyone involved).
CitiBike
CitiBike is a bicycle rental program in NYC that you can join, then get access to bikes throughout the city. There are places for CitiBikes throughout all 5 boroughs, so rent a bike and bike to where you want to go, then return it once you get there. It costs $14.95 per month, with an annual commitment.
All MetroNest properties are in prime locations with easy access to transportation but NYC is a giant city and can be overwhelming, but it doesn't have to be if you arrive prepared. While one of its best features is walkability, there are times when you'll be glad to have some wheels or other, faster mode of transportation. Learn about how to get around ahead of time. Then, once you're here, you'll feel like a pro whether you have to get on a train, bus, car, boat, or anything else that will get you to your destination!