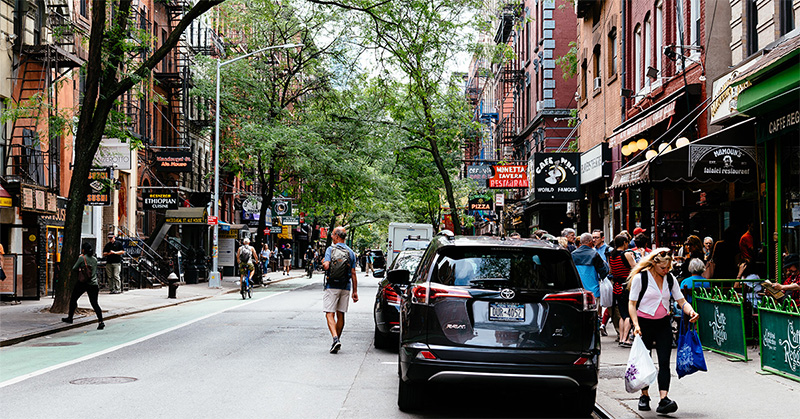 You may think of New York City as one of the biggest, most-bustling, most-overwhelming cities in the world. And, in some ways, it is. But, if you move to NYC, you will discover something else: the city is just a collection of smaller neighborhoods, each with their own distinctive feel, community, and host of amenities.
If you're moving to NYC, one way to make the city feel more manageable and personalized is by getting to know the specific neighborhood you land in. By doing the work to get to know your area, you'll not only have an experience that feels more like home — but also make life more convenient, fun, and comforting for you. Here are some great ways that you can start to get to know your new neighborhood in NYC.
Walk Around
The city is best explored on foot. Once you move into your new apartment, the first step is to wander around. By wandering around your neighborhood, you can get a feel for the general vibe, as well as the neighbors who live around you. While you walk around, make note of important spots that you'll want to revisit: your closest subway stop, the nearest grocery store, a convenient laundromat, and more.
Talk to Your Neighbors
If you live in a small apartment building, it can be helpful for you to visit your neighbors to learn about the area. Consider knocking on people's doors or saying hello to them in the hallways to introduce yourself. You could also consider leaving them a note telling them that you moved in. If you have conversations with your neighbors, ask them for tips about the neighborhood. You can ask them for concrete information (like where the closest wine store is), but you can also get more feedback about the best places to go — like their favorite restaurants, the most fun bars, the best shopping, and more.
Use Online Resources
There are great online resources that can help you learn about your neighborhood, like Yelp, Foursquare, Google, and more. Do some searches about the kinds of places that you're looking for: movie theaters, police stations, libraries, etc. Then, make note of the results you find. Online resources won't only tell you the names of the places and their addresses. They'll also give you insight into customer reviews, and they can connect to your phone's GPS to help you navigate there easily.
Check Out Time Out New York
One of the best NYC resources is Time Out New York. This beloved print and online publication publishes listings of events and places to visit in the city. Check out the magazine to see what's happening in your area. Not only will it give you a good sense of the types of events that take place around you, it will also give you a good idea of the best venues to visit to have a good time — from museums to concert venues to bookstores, and so much more.
Moving to New York can feel like a daunting task. However, if you think of the experience like moving to a small neighborhood in a bigger city, you can feel at home right away. Do some work to get to know the area right around you, and you'll start to think like you know the city well. By making some friends, attending events, and simply wandering around, NYC will feel like the place for you in no time.